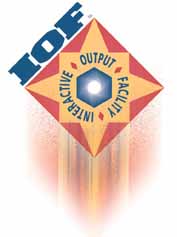 June 1997
Newsletter

IOFTech Maintenance Release8G Newsletters Doc FAQ Contacts Home Webmaster
Introduction to the IOF Technical Support Home Page
The IOF Technical Support Home Page is meant to provide an important additional method for IOF customers to obtain timely information and service. It does not replace direct customer service. The information will be updated regularly to provide the most current information available.

Initially there are several major branches from the home page:
Frequently Asked Questions. Both simple and complex questions will be included. Questions will be derived from day to day technical support experience.
Year 2000 Support. A statement of the current status of IOF compliance is included.
Newsletters. Newsletters will be written and included as needed. They will normally be published only on the home page.
High Priority Fixes. Well tested IOF fixes required by a large number of users will be included in this section. Fixes can be browsed or downloaded. Several fixes may be packaged together into a fix pack for special purposes, such as support for OS/390.
Online Documentation. The IOF User Guide is available for online browsing on this branch. ZIP files in either HTML or BookManager format can be downloaded.
Sales and Technical Support. Phone numbers, fax numbers and email addresses are collected and displayed for your information. Links to IOF Sales Agents with home pages are also included.
Every attempt will be made to keep the information on these pages concise and relevant. Please send us your comments and suggestions for improvements.